OREO
9/11/03 - 10/11/16

Oreo was a gift from God for 13 years. Although his character could at times be as opposite as his black and white colors, he gave us more unconditional love than anyone could ever imagine. He loved his blanket, there were many throughout his life as he would put holes in them, and we would often find him snuggled underneath it on his bed. He also loved his "stinky bone", again there were many, and he would only chew on one end which made sense because that way he could hold the smooth end in his paws. He enjoyed peanut butter, cheese, carrots, eggs and especially Cheerios. He shared his home with his sister Inky (cat) who he would play around with and we know she misses him too. He loved Sundays when Aunt Katey and Grammie would visit and he would get special backrubs and songs from Grammie. He enjoyed going for walks, naturally making many pit stops along the way. He would sing along when the siren went off and he was the best guard dog we could ever ask for. We know he is still guard doggin' over us now. We love him so much. He is forever in our hearts and is truly missed every day until we see him again.
---
Smiegel
Smiegel loved tennis balls, snow, the lake, Christmas morning, food ...and his family! He and his family also love Bunker Hill Vet. We recently lost our best friend in a 48 hour period of symptoms, diagnosis and decline. The clinical and emotional care, from every member of this team, was exceptional and got us through a heartbreaking loss.
---
Tucker


---
Dear Drs. Zajac and Turk, and your extraordinary team,
Thank you for your compassion, skill and extraordinary efforts on behalf of my DD, aka Diva. Your kindness will never be forgotten.
She and I began together fourteen years ago when she was a frightened, feral kitten and I the scary human who trapped her entire family, and began the slow but satisfying task of easing their fears and earning their trust.
They were all wonderful but DD truly blossomed. She became a bright-eyed good will ambassador always delighted to greet new visitors, a very vocal mischief-maker collecting balled-up socks and adding them to her growing litter of sock babies, a contented sweetheart cuddled on my lap, kneading, purring and gazing up into my face.
I was her person, the one she ran to for care, shelter and comfort, the one she trusted to do right by her. Which is why, when she became ill, I brought her straight to you and your top notch support team for diagnosis, and subsequent treatment.
Sadly, DD was in an advanced stage of kidney failure compounded by diabetes. Her spirit had not given up, however, so neither did we and thanks to the expert care you provided, she was not only regulated but strengthened and able to come home to spend her last weeks of life with her family.
When I needed advice or instruction to manage her illness, your team was more than generous and I cannot thank you enough for that.
And when it became time for her to go you were right, she did let me know. Her valiant spirit flagged, her body weakened and the bright light in her eyes dimmed to a weary, beseeching question.
So we returned that day to Bunker Hill Veterinary together one last time because she trusted me to do right by her, and I trusted you to do the same. Which you did, which you have done for me and mine before with a depth of grace, compassion and kindness far exceeding professional courtesy.
DD's passing was swift and peaceful, one of comfort and tenderness. I credit the last happy weeks of her life and the gentle ease of her passing to the genuine skill, knowledge, patience, care and compassion of the doctors and their wonderful team at Bunker Hill Veterinary Hospital.
Trust is important, and you have mine.
With heartfelt gratitude,
Laura Wiess
---
SIG SAUER
November 1999 - July 2016

Sig was a Labrador and German Sheperd mix as best could be determined. She was a stray that wandered onto a firearms range in Southwestern North Carolina where my son Scott was training in preparation for a Ranger position with the National Park Service. Estimated to be ten weeks old at the time, Sig was "adopted" and cared for by the ranger class members. She was given her name, borrowed from the brand of firearm Scott uses. At the end of the training program, Sig was faced with either being taken to a shelter or having one of the rangers keep her. Scott came to her rescue.
As a seasonal NPS Ranger, Scott could not have a pet at his duty stations. Sig was cared for by friends in Tennessee for a summer and then came to Pennsylvania to live with our family. She immediately became the queen of the house and had two young cats as playmates. Sig was an outgoing dog, quick to become friends with those she met. She loved to go for walks, visit different places and most of all go for rides. Last Fall Sig returned to North Carolina with Scott to revisit the place where they met. Several of the instructors there remembered Sig from her puppy days. There were very few places in the past sixteen years that Sig did not accompany me, along the many thousands of miles I travelled.
Beginning in 2012, Sig traveled to Alaska to spend her summers with Scott who by then was several years into a permanent assignment. She would ride north with me in June and I'd go get her in the Fall. She really enjoyed her times in Alaska, times which included hiking, camping and rides in small airplanes. Her playmates were Scott's team of Alaskan Husky sled dogs.
Her 2016 Alaskan trip was thought of as being her last because her age and some infirmities were catching up with her. I knew Scott wanted to see her one more time so Sig and I drove north and spent three weeks visiting. She began to show signs of having a medical issue so I brought her home with me in Late June. She passed away two weeks later, in comfort ... her final journey. She was loved, will be missed by many, but not forgotten! R.I.P. my friend! Thank you for all the love and joy you gave to us.
- Jim Sample
---
Klondike
October 4, 2003 – May 23, 2016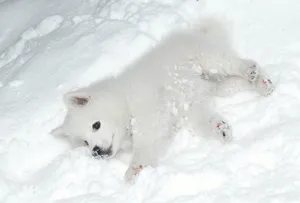 Klondike, an American Eskimo Dog, joined our family on Thanksgiving Day in 2003 just one day shy of eight weeks of age. We picked her up at the breeder's, outside of Philadelphia, and when we got home we found that our next door neighbor, with a house full of Thanksgiving guests (mostly family members) had organized a "shower" for our new little girl replete with gifts and treats. She got passed from one person to another and everybody loved her. All puppies are cute and we think that Eskies are the absolute cutest and, of course, we thought Klondike was the cutest of them all. If we weren't careful, in the winter we might lose her in the snow.
The first Monday after Thanksgiving Klondike had her first Vet visit and she and Dr Michele bonded right then and there. It wasn't just Dr. Michele though, but the entire practice. Everybody there treated Klondike as though she belonged to their family and that went on for Klondike's entire twelve-and-a-half years. From Klondike's first visit to Bunker Hill Vets, from that day forward she loved to go to the vet.
Marlene and I are retired and we travel a lot in a motorhome. For twelve and a half years we went absolutely nowhere without Klondike. During that time we covered about 95,000 miles and visited 33 states. We were planning on getting her states visited total real close to 48 (Hawaii and Alaska were not really on the list), but now, of course, that won't happen. When we were at home she traveled about 200,000 miles going almost everywhere that we went.
While traveling in the south during the winter we would frequently encounter large crowds and packed sidewalks. We lost count of how many times we completely stopped traffic on a sidewalk while people gathered around Klondike asking questions and petting the pooch. Most people asked of it was okay to pet her, but she didn't care if they asked. We are going to miss hearing "that is the most beautiful dog I have ever seen." And nobody could resist her continuous "smile". We had a vet at Cornell ask if it was okay if he gave her a kiss.
We spent the winter of 2015-16 in Florida and then driving across the south to Texas and then home from Nacogdoches. During that time we visited four vet clinics and Klondike saw at least five vets. They all knew there was something wrong, but they couldn't figure the cause. The first thing we did when we got home was to see Dr Michele. She suggested that we go to Cornell where we would have access to all the vet specialties and the sophisticated equipment that might be needed for a definitive diagnosis. They confirmed that she was totally blind, but they couldn't see anything that would be the cause of the blindness. The ophthalmologist called in the neurologist who suggested that perhaps a MRI would help. We approved the MRI and that provided some answers. The MRI showed severe brain deterioration and they diagnosed it as Gliomatosis Cerebri, a very rare cancer. There is no cure and no treatment. They gave her a few weeks to a few months.
Everybody we asked, "How will we know when it is time", told us that we would know. The fourth weekend of May was a bad one as Klondike seemed to get worse by the hour and we knew. On Monday we made arrangements with Dr Michele and Cornell for first thing Tuesday morning. On Monday afternoon Marlene picked Klondike up and held her on her lap and that was when and where she died. We couldn't believe how peaceful it was. We tell ourselves that was Klondike's way of going on her terms and eliminating the need for us to have to make the decision. We took her to Cornell so that they could study her brain and so far they have ruled out Gliomatosis Cerebri as well as a couple other possible brain diseases. They are still working on finding a definitive cause.
There is no way we can express how much we miss her. We have been married 48 years and Klondike was our first pet. Klondike was just as much a family member as either one of us and it is hard to believe how much love there was that was shared amongst the three of us.