Dr.

Dr. Michele Zajac graduated from Lackawanna Trail High School and attended the University of Scranton. She graduated from Kansas State University College of Veterinary Medicine in 1993. She then began working for other veterinary practices in the area while developing her mobile practice. In 2001 Bunker Hill Veterinary Hospital, P.C. was established in Nicholson, PA, offering care for both large and small animals. She opened her current practice in Factoryville, PA in 2003.Dr. Michele enjoys spending time with her 4 cats.
Leslie has been in the veterinary field since 2010. She's a graduate of Johnson College and has 2 horses, one dog and 2 cats. She enjoys time with her family and animals, and playing guitar.
Cindy has been with Bunker Hill for over seven years. She has owned many pets and animals and has worked with them her entire life. Some of her many accomplishments include an Associate's degree in Animal Science and a Bachelor's degree in equine studies with a concentration in breeding farm management. In her spare time and on her days off from here, her Master's degree in Education allows her to substitute at local elementary and high schools. Cindy is someone who can do anything and we're so lucky to have her with us!
Billy is our project manager and general 'all around' person at the practice. He's has been with us for a number of years and has been instrumental in many of the changes and improvements you've been seeing. Billy always has a positive attitude and he's fun to have around. He is a hard working individual with a strong work ethic and is able to 'get the job done'! He's able to do just about anything and enjoys taking on a challenge. Billy has one cat 'Winston' and enjoys piloting airplanes and boats, hiking and travelling.
---
Our Mascot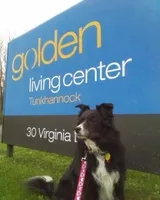 Sadly, Onyx "The Wonder Dog" passed away at the beginning of the year. She was Dr. Michele and Mark's faithful companion for more than 17 years and she is painfully missed. Onyx was a therapy dog at Golden Living Centers for a number of years and was an absolute joy to have at our clinic. Onyx is gone from our lives but will never be absent from our hearts.