Welcome to Bunker Hill Veterinary Hospital, P.C.
Your Veterinarian in Factoryville, PA
Call us at 570-945-5900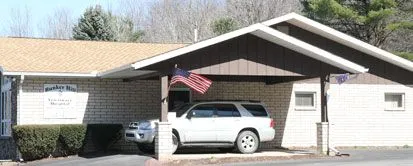 If you live in Factoryville or the surrounding area and need a trusted veterinarian to care for your pets – look no further. Dr. Michele Zajac at Bunker Hill Veterinary Hospital, P.C. have been providing outstanding care to your dogs and cats for over 20 years. Your pets' health and wellbeing are very important to us, and we take every possible measure to give them the type of care that they deserve.
Bunker Hill Veterinary Hospital, P.C. is a full service animal hospital and welcomes both emergency treatment cases as well as pet patients in need of routine medical, surgical, and dental care. Dr. Michele Zajac is highly experienced treating serious conditions and offering regular pet wellness care. Beyond first rate pet care, we make our clinic comfortable, kid-friendly, and calm, so your pet can relax in the waiting room and look forward to meeting our talented and caring veterinary staff.
Currently we are providing the best in general dog and cat veterinary care and we pride ourselves on making sure our clients are well educated in the wellness and sick care of their furry friends. In addition to office visits, Bunker Hill Veterinary Hospital, P.C. is a full service, small animal hospital providing physical exams, wellness care, general medical care including vaccinations and deworming, along with pet illness and injury care. We also provide surgical procedures including spays, neuters, mass removal and dental cleanings for pets of all ages. To support our clinic, we have an in-house laboratory where we can get immediate results on blood tests, fecal examinations, urinalysis and more. BHVH is a "small town" veterinary hospital with "big town" capabilities. Our talented staff at BHVH can do it all and we know that you and your pets will feel the same.
BHVH Community Education and Outreach
BHVH continues to provide more health care specials for your family members. We will help you become more educated with health awareness for your loving animals. With Bunker Hill Veterinary Hospital, we provide you with exceptional animal care and educate you on how to take the best care of your pets. We strive to be involved in our community by educating local elementary and high school students regarding animal safety and care along with participation at local career day events. If you have any events we may be interested in participating, please give us a call or send us an e-mail. We welcome your inquiries and feedback to help benefit the surrounding communities.
At Bunker Hill Veterinary Hospital, P.C., we treat your pets like the valued family members they are.
Be sure to view our Facebook page for the latest updates and weather-related closings!
Dr. Michele Zajac
Factoryville Veterinarian | Bunker Hill Veterinary Hospital, P.C. | 570-945-5900
214 DGK Lane, Ste. 200
P.O. Box 310
Factoryville, PA 18419